29 Apr 2023
RecyclingAKTIV & TiefbauLIVE convinces as a unique demonstration fair format
Sustainable use of raw materials is the driving force behind the fair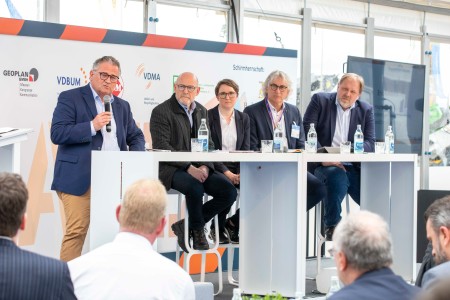 Double-digit growth rates in exhibitors and occupied space - this was the largest demonstration fair to date, RecyclingAKTIV & TiefbauLIVE (RATL for short) at Messe Karlsruhe. Around 10,000 visitors from more than twenty countries gathered information over the three days of the fair from more than 260 manufacturers, dealers and service providers who represented a wide range of products and services in the civil engineering and recycling sector. The numerous live demonstrations and the practical exchange between exhibitors completed the demo fair experience of RATL 2023.
"The combination of civil engineering and recycling is an outstanding contribution to the circular economy and the sustainable use of raw materials. The demonstrated e-drives, recyclable building materials and system and process innovations visibly illustrate the changes towards sustainability within the industries. "The demonstration fair is a hub for innovative ideas in the Karlsruhe Technology Region," says Britta Wirtz, Managing Director of Messe Karlsruhe.
The Baden-Württemberg Minister of Transport, Winfried Hermann, patron of RATL, emphasises in connection with his visit to the trade fair: "Both the civil engineering sector and the recycling industry are undergoing a major transformation. Recycling is becoming increasingly important and the processes are becoming more sophisticated and significant. In all areas of construction, we are increasingly moving towards a circular economy. This is also necessary in order to save energy and materials, so the two trade fairs are very much related to each other and have a common goal: they want to contribute to the conservation of environmental resources and the climate with new processes."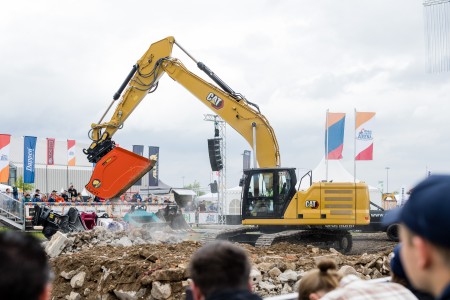 Demo formats inspire the trade audience
The five top-class demo formats with around 40 shows on all three days of the fair created the perfect space for visitors to compare and explore innovations and custom-fit solutions for use in their own operations. Sarah Rupperath, Marketing Manager at exhibitor JCB, had her machines running in not one but two demo formats: "There is no trade fair in Germany that offers so much demonstration on the exhibition site. We are present at the electromobility showcase and the wood and biomass action area. In addition, we have our live demo area on the stand itself. We don't have that at any other trade fair." Visitor Nicole Ziesak from Hans Meyer AG in the Swiss canton of Aargau is enthusiastic: "In my opinion the fair is very structured and interesting. Especially the demos are exciting. Seeing how the machine works and not just hearing how it works theoretically is a great added value."
The Baustelle:Zukunft job fair, which was dedicated to the shortage of junior staff in the sectors, was also visited a lot and received top ratings. RATL important platform for investment decisions
The fact that the unique character of the concept of the demonstration fair is well received by the industries is also reflected in the high willingness of trade visitors to invest. More than three quarters of the visitors are decision-makers. "We are particularly satisfied with the quality of the discussions we have with interested parties," says Marc Kallies, branch manager at Zeppelin Baumaschinen, summing up his participation in the fair. "There is a relaxed, but at the same time technically good atmosphere at RATL. Here, in contrast to other trade fairs, we have the opportunity to deal intensively with the customers. This is the only way we can go into depth on the topics." This can also be confirmed by visitor Robert Maier from Stingel Baustoffrecycling in Schwenningen: "I really like the size of the fair. Here I can have detailed discussions with business partners who really take time for me. I will definitely come again in 2025." Thomas Knapp, Head of Sales Germany at Wacker Neuson, describes the fair as a win-win situation for visitors and exhibitors: "We are very satisfied with our participation in this year's fair. We were able to close good deals with a high probability of follow-up orders at our stand and hold numerous consultations."
Many visitors from all over Germany and more than twenty other countries travelled long distances to attend the fair. Almost half of the visitors travelled more than 100 kilometres and one in six more than 300 kilometres. Stefan Siefken, sales representative at Eggersmann, sums up: "The RATL is a high-quality trade fair and gets to the heart of the industry. We also meet international trade customers here from Switzerland, France and Austria who make decisions directly at the fair."
High-quality exhibitors show the interplay of the construction, demolition and recycling sectors.
260 exhibitors - more than ever before - created a compact sales platform for linking the construction, demolition and recycling sectors in the trade fair landscape on an area of over 95,000 m². Newcomers such as Topcon Deutschland Positioning, Vermeer Deutschland and UNTHA shredding technology contributed to a comprehensive cross-section of products and brands. But also long-standing exhibitors such as Zeppelin and JCB expanded their product ranges represented at the fair and positioned themselves more broadly and thus also larger, for example in the compact and handling machinery sector. Harald Weber, Sales Manager at Kurz, says: "We are very close to the customers here, because we can get on every machine with them and show them in live operation. I also like the combination of topics: because material that I often cannot reuse in civil engineering can be recycled. That's what makes RATL so special, because I meet both customer groups here."
The great satisfaction of the exhibitors is also reflected in their intention to return: more than 90 percent of the exhibitors have already confirmed their participation in the next RATL in September 2025. Olivia Hogenmüller, project manager, says: "The great response from our exhibitors is a great motivation with regard to autumn 2025. I was particularly pleased that we have already had numerous discussions with potential new customers who were able to convince themselves of the demonstration fair format on site."
RecyclingAKTIV and TiefbauLIVE work together with the industry associations Bundesvereinigung Deutscher Stahlrecycling- und Entsorgungsunternehmen (BDSV), Bundesverband Sekundärrohstoffe und Entsorgung (bvse), Verband der Baubranche, Umwelt- und Maschinentechnik (VDBUM), Deutscher Abbruchverband (DA), Verband Deutscher Maschinen- und Anlagenbau (VDMA), Verband Deutscher Metallhändler und Recycler (VDM) and Verband Garten- Landschafts- und Sportplatzbau Baden-Württemberg.
The next RecyclingAKTIV & TiefbauLIVE will take place in autumn 2025.